Hi Everyone 👋,
Happy Sunday! Welcome to the +1012 NEW subscribers who have joined us since last edition. If you're reading this but haven't subscribed, join our community of smart, fun & edgy investors by subscribing here:✓
Let's Get Started!
"Skate to where the puck is going, not where it's been." -Wayne Gretzky
Investing is like hockey.
To win, you need to be thinking multiple moves ahead.
With a strong and consistent core team.
Who can occasionally pull rabbits out of their hat in a spectacular demonstration of Cirque du Soleil on ice.
The stock market equivalent is how I have invested my own money for the last 15 years.
CORE & EXPLORE PORTFOLIO.
80% of my money is invested in large-cap, dividend paying, low risk, boring stocks.
The other 20% is where I have all my fun, investing in high-risk, speculative, small-caps & deals.
Operating on the edge of what's possible while constantly re-assessing what's probable.
On that note, let's start 2021 with a bang!
Cruising 'Moonshot' ideas together. Those that could be 5x, 10x or even 100x ideas.
Remember we're throwing grenades here – not darts!
Big thinking for big returns.
Stretching our minds on the future of LIFE!
1. LIVE: Tiny Homes & Breathing Walls.
During COVID, we spent billions decking out our homes like an episode of MTV Cribs meets Survivor.
Keeping busy and avoiding fights with our significant others meant scented candles & Pelotons.
Home Depot had their best quarter in 20 years with +$38B in sales!
Big numbers, but likely onetime in nature, although I did see a girl on TikTok get a permanent microchip implant in her hand to make opening the front door safer & easier.
Looking a decade out, spending trends I am excited about were recently highlighted in the The Wall Street Journal'House of Tomorrow' article:
– Fridges that restock themselves
– Living and breathing walls
– Green-powered everything
Recent Tweets & headlines also got me thinking about the re-organization of life: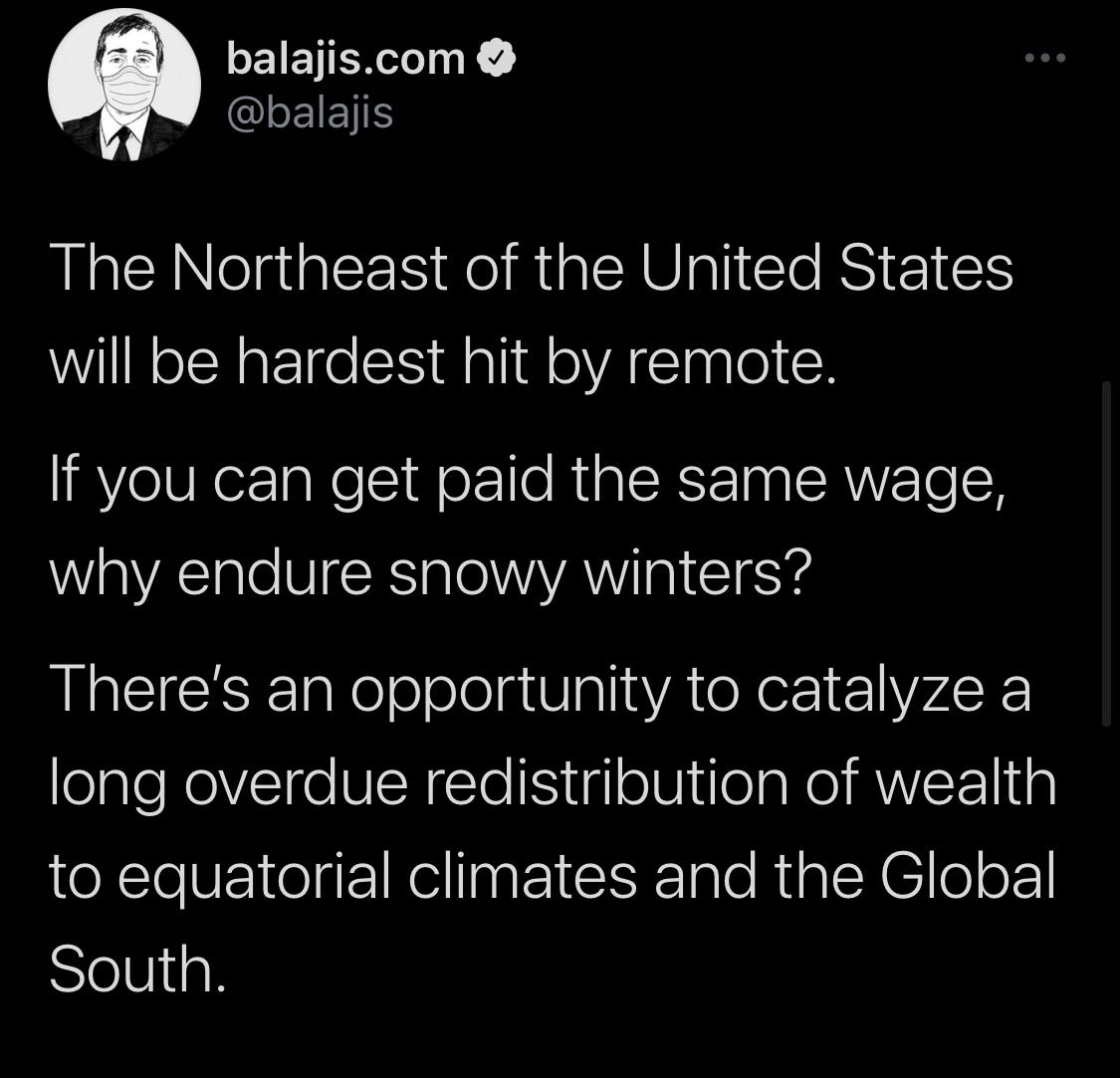 Manhattan rents plummeting to record lows
People relocating to Florida and Texas for lifestyle and tax reasons (+7 million over the past 10 years)
But, my jaw really dropped when I saw this:
These tiny $17,500 prefab 'urban escape pods' from former Tesla and SpaceX designers are now available to preorder
The insanely low price, beautiful design and near-term availability of March 2021, did it for me.
Remember when flat-screen TVs cost thousands of dollars back in the early 2000s? When only celebrities and your stock broker could afford them.
Now they cost only a few hundred dollars.
This is what I call the 'Miniaturization of Luxury'.
And, it's coming to housing.
Given we are in the middle of an affordability crisis, I see a future where the 'Tiny Home' movement really takes off.
Especially given approximately 20 million Americans live in trailer parks.
Even Ikea is getting in the game.
"Ikea tiny homes can help fight climate change by giving small footprints a big toehold"
And, billionaire Sam Zell is betting on the trend, turning some of his trailer parks into manicured micro-homes.
Another solution to the housing affordability is communal living.
In Sweden, their housing shortage has spawned a co-living craze.
"The city introduced a waiting list in 1997 — a previous system had been around since 1947 — that now has over 650,000 names in a city of less than a million."
Since 30-70% of us are never going back to the office, I wonder if the 'communal/digital-nomad lifestyle' takes-off beyond the fringe?
2. WORK: AirBnB meets WeWork.
COVID has handed younger generations the ultimate passport.
Live, Work & Play…from anywhere at any time.
Mass exodus from every major city has accelerated cool business models to fulfill this new reality.
"The rise of the digital nomads is going to be one of the biggest movements hospitality has ever seen." -CEO Selina
Take Selina. It's AirBnB meets WeWork.
52 locations globally, 70k members and +$1B Valuation.
I could see Silicon Valley "wooing" new talent with "work from anywhere" memberships!
The "Freedom Economy" also known as Gig or Freelance will continue to flourish.
It's worth $300B today but trillions are in its future.
Companies that build tools which mimic the support & services of a traditional job – health & retirement benefits – will be big winners.
And what about the Robots taking our jobs?
According to Nassim Taleb, the international best-selling author "Black Swan" robots will replace every job soon enough!
3. LEARN. Hollywood Here we Come!
Imagine a world where you don't pay for your college education upfront.
Instead you agree to share a percent of your future salary.
It's called an 'income sharing agreement' and the Lambda School, backed by Ashton Kutcher and +$100MM in capital, is doing it.
Instead of going into debt, you are selling equity in yourself.
This new model of financing education is a fresh alternative to the +$1.6 trillion in student debt we have shackled our future generations with.
The other archaic model I think will see an overhaul is the delivery & experience of education.
Learning today is physical, passive & generalist. A kind of 'put you to sleep webinar.'
Learning tomorrow will be virtual, dynamic and customized. Hello gamification and 'Hollywoodization' of education.
But, given the influencer of government funding, the system seems resistant to change. The opportunity is huge, although it's still early days and most won't attempt to disrupt it.
Annual education spending is a $1.6T industry and yet today 'EdTech' (educational technology) represents less than 5%.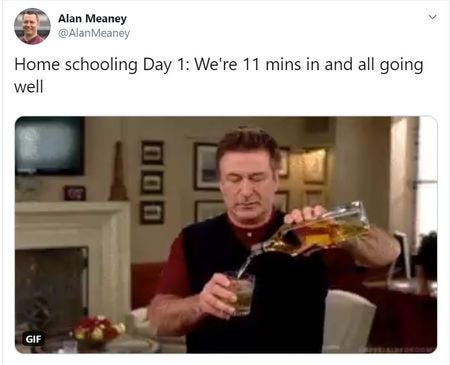 COVID has been a clear catalyst here.
EdTech funding is up 30% YoY and is close to all-time highs.
Companies like Outschool, offering dynamic virtual classes, saw their enrolments explode.
In February 2020, Outschool had 80,000 learners; as of August 2020, there were 1.6 million new sign-ups
All-age learning platforms also saw big investments. Corsera raised $130MM and MasterClass raised $100M. Both are billion-dollar companies now.
The beauty with learning is, as the delivery of content improves, our thirst for knowledge grows exponentially!
4. HEALTH: Biohacking & FitnessTech.
"If you are going to compete with your peers, wait until they are in their 70s, they are easy to take down."
If we don't have our health, we don't have anything.
Luckily, humankind has made leaps and bounds in improving quality of life.
We no longer run from cheetahs on the Great Plains of Africa. Instead we run from ourselves…getting old.
It started off innocent enough with plant-based juices, intermittent fasting & facelifts.
Now, it's designer drugs, biohacking and microchip implants.
The cyborg transformation has begun.
From a moonshot-meets-reality perspective I think the best investment theme here is plant-based food.
It's great for the environment and can add years to your life. Checkout my newsletter on it HERE.
"Avoiding meat and dairy is 'single biggest way' to reduce your impact on Earth….livestock provides just 18% of calories but takes up 83% of farmland."
But, fascinatingly, the quickest way to turn back the clock (at least physically) is already here.
It's called face putty. If you don't know what it is, google it.
You'll never be the same again. Literally.
In all seriousness, though, I think FitnessTech has a bright future.
No, I am not buying Peloton. I can't get my head around the valuation and lack of long-term moat.
But, I do think these technologies have tapped into our brain chemistry, creating a perfect potion of addiction.
With gamification and socialization, working out will never be the same again!
And the devil is in the detail.
The average gym member goes twice a month. But the average Peloton user is significantly more addicted:
5. PLAY.
Digital Marriage.
Generation Zs are born with a smart phone strapped to their bodies.
"We're already a cyborg. You have a digital version of yourself, in the form of your emails, your social media, and all the things that you do." -Elon Musk
Your phone records everything:
Trips you've taken.
Whether you pay your bills on time.
How social – or not – you are.
How you deal with conflict (eventually our fights will even be recorded & analyzed!)
Online dating is about to get weird.
From a Neanderthal-like 'swipe right' exercise. To an elaborate AI matching system of our digital histories.
Stacy and George share a love for biking, Game of Thrones and Super Tuscan wines. Both are democrats, FICO scores of +700 and are lazy but social. She's anxious. He's avoidant. Both looking to settle down.
A match made in digital heaven.
At +$65B, the dating and wedding industry is ripe for an entertaining disruption.
Watch-out for the highly anticipated IPO of Bumble in 2021. And for new innovative fund products like this:
Digital Bouncers.
"As trust goes up, speed goes up and cost goes down"
Imagine a 'whale club' but only for bitcoin holders who can prove they own $1B worth of BTC.
Or a sneaker club but only for those who own limited-edition Air Jordans.
Or a deal club but only for accredited investors who invest a minimum of $100k on private placements.
Many clubs like this exist on Facebook or Discord. But none have a true gatekeeping component.
The future of online socializing will be authenticated via a 'digital bouncer' checking IDs and asset holdings instantaneously.
From your LinkedIn to your JP Morgan bank account – and everything in between Robinhood, StockX etc!
Vacation on Mars.
I once took a helicopter from Nice to Monaco. It cost +$250 euros for 7 mins of bliss.
I've been chasing that 'aspirational high' ever since.
Thankfully, due to a raging bull market financing every 'back-of-a-napkin' business idea and technology getting cheaper, travelling like a billionaire is about to get a lot more affordable.
Blade Urban Air Mobility, the the Uber for helicopters & private jets, is going public via a SPAC.
"Blade provides short-distance aviation trips for just under $1,000."
Now you are just one day trade away from flying like Buffet ; )
Plus you could feel good about your high-flying moves.
By 2025, Blade expects its entire fleet to be green, becoming the first public company to offer electric vehicles in the air.
Former Fed Chair 'Helicopter Ben' is literally the best influencer for this:
Helicopters are cool. But have you ever ridden 100 mph in an airless tube through the Nevada desert?
In November, that fantasy became a reality. With the first human passenger Hyperloop ride.
Within 10 years, we will be able to go from New York to Los Angeles in under 35 mins at the same cost of flying commercial.
But the trillion dollar question is: when are we going to Mars?
A month ago, SpaceX had its most successful flight ever, a big family office called me and said they were looking to buy $500k worth of SpaceX pre-IPO stock immediately!
Although it is ridiculous that people are building valuation upsides on AirBnB including a Mars expansion, we can't ignore that SpaceX is now a $100B company.
Investing in inter-galactic real estate could literally be the moonshot investment of a lifetime!
This week's edition on Moonshot investing was meant to stretch our thinking. Now let's get more specific on tangible investment ideas!
How's Grit Playing it?
As promised, here is the list of the top 15 small-cap positions that I currently own. All companies are less than $5B market cap (except Bitcoin). They are not all 'Moonshot' ideas. Many are real businesses with strong upside. Warning, I own these stocks today but I may trim, completely sell or buy more at any point in time. Do your own due diligence and always consult your financial advisor.
Until next time. Always Yours. Incessantly Chasing ROI,
-Genevieve Roch-Decter, CFA
P.S Remember "if you're selling Bitcoin, you're not 'taking profit'. You're taking fiat"
---
What else we Grittin' On:
Agflation. "Commodities just poked their head out of a 12-year resistance"
Celebrity Money. NFL's Russell Okung to Get 50% of His $13 Million Salary in Bitcoin
IPO Bonanza. 2020 was the busiest year for IPOs since the dot-com bubble. Could it be repeated in 2021? Upcoming IPOs: Coinbase, Robinhood, Roblox, Bumble.
---