Hi Everyone 👋,
Happy Sunday! Welcome to the 203 NEW subscribers who have joined us since last week. If you're reading this but haven't subscribed, join our community of smart, fun & edgy investors by subscribing here:✓
Now let's get started!
There's an old saying on Wall Street: the best deals don't get done in the boardroom.
They happen over cognac in the Hamptons, yachts in the Mediterranean or private squash clubs in Manhattan.
Thanks to COVID, a decade of financial market innovation has happened in 6 months.
Deals are getting done on Zoom, pre-IPO financings are being bought on credit cards and 'FinTwit' influencers are moving stocks.
The 'old boys club' of exclusive access is being dismantled. In its place, a menu of delightful fund-raising tools and asset classes are gaining momentum!
In September, a finance influencer with 400k followers raised ~$12MM in less than 1 week on Twitter
In the last year +$250MM has been raised through digital private placements in Canada
In 2019, a wealthy business man paid $1.2M for 100 pairs of rare sneakers at a Sotheby's auction. Today, for $10, you and I can do the same
Less Money. More Work.
The world of investing is becoming more complex. Ironically, this is happening at the same time investment advisors are getting paid less.
As such, it's unlikely they are keeping you up on all the new money making access points.
So, I thought I would!
Pre-IPOs: I want in on the 'POP'!
Companies are waiting longer and getting bigger before they IPO.
The average age today is 12 years with 15x more revenue. Back in 1999, it was 4 years.
By the time these unicorns go public, the 'easy money' has been made.
Good news is, you can get in on the pre-IPO action without being a $10B Wall Street hedge fund.
Platforms like EquityZen (U.S) and InvestX (Canada) let you buy and sell companies like Robinhood, AirBnB, Stripe, Barstool Sports, TikTok, etc.
I know investors who got in on Palantir 6 months ago and are up +300%.
Bad news though, you need to be an 'accredited investor' to invest. Which means a net worth of $1MM or have made +$200k in each of the last two years.
If you are accredited and wondering why you aren't seeing pre-IPO deal flow from your broker, it's because they make 2x more selling their own deals. Instead of getting access to AirBnB, they show you deals like "TheNextAirBnB" 🙄
If you're NOT accredited. Don't fret, there is a new game in town for you.
Reg A: Pronounced like Bob Marley's "Reggae"
It's now legal to take out an ad in Times Square and advertise a US$50MM financing to millions of people.
Thanks to the Obama administration, who made this possible back in 2012.
Reg A is a wonderful capital raising tool levelling the playing field between professional and retail investors.
EVERYONE AND ANYONE CAN INVEST.
Over 400 companies have raised US$9.1B this way. And a lot of the buying is being done on credit cards!
Even Shark Tank's Kevin O'Leary is a fan. He nailed communicating the power of Reg A in a recent interview I did with him:
"Here's what's different about going to a hedge fund, private equity or VC for $50MM. [With Reg A] you can go to your customers and have thousands of them aligned with your product AND become shareholders. What is the value of that? It's PRICELESS"
He's right. No VC can offer you this exposure or brand affinity with customers.
However, with all its marvel, comes one big downfall.
LIQUIDITY.
Most of these deals stay private for a long time. And people's money gets trapped.
In a recent email exchange with Mark Cuban he made this point crystal clear. Yes I cold-contacted him for an interview and yes he actually responded and NO I am not giving you his email address.
But this is starting to change.
A friend of mine recently launched "Going Public", in partnership with an investment bank in the U.S. and Entrepreneur Magazine. It's a show that will allow viewers to invest in private companies as they list on NASDAQ. Think Shark Tank meets Mad Money. This solves the liquidity issue with an added bonus of having institutional quality due diligence.
Private Equity: Picassos & Air Jordan's.
With the Fed printing non-stop, there are few spots left to make a decent return.
Stocks, Real Estate and Commodities have all had insane runs.
This has caused the top 1% wealthy crowd to diversify into private equity, high end art, wine & sneakers!
I remember first hearing about these esoteric investments from billionaire Frank Giustra right after the financial crisis. He confessed to a room full of investors he was buying high-end art.
I thought, "Brilliant, how can I do this too, without having a billion dollars?"
Fast forward to today. The technology is here. For as little as $10, you and I can BUY:
1985 Michael Jordan AJ1 Player Exclusive "TYPS"
2002 Dom Perignon
1963 First Avengers Comic
And we get the SAME bragging rights as billionaires at cocktail parties ; )
Crypto: Beware of Bunnies.
It's estimated that up to 95% of ICO's were scams. Billions were raised and lost.
It's sad. But in every nightmare, there's a lesson and an opportunity.
The lesson: don't buy 'Bunny Tokens' from Russian mobsters off YouTube. I don't care how cute the bunny is.
The opportunity: with a little regulatory help, fundraising via crypto can happen on a global scale at the push of a button.
This is already starting to happen. The St Regis luxury hotel in Aspen raised $18MM in a global security token offering. Becoming the first private single asset REIT in the U.S. All entirely SEC compliant!
Tokens aren't just the digital version of stocks. They are smart stocks.
For example, take Fairmint. They are creating what I believe to be the future of investing. Their tech allows "investors to buy equity in a company, at any time, directly from their website. Companies will be able to add an 'Invest' button as easily as they add 'Buy with Apple Pay' today button." Financings will be LIVE 24/7 and never end.
Imagine getting in an Uber 10 years ago, being delighted with the experience and instantly investing in the company at the push of a button. Wild!
Retail Renaissance: 'Take from the Rich, Give to the Poor'
This isn't a new asset class but rather a new breed of investors to pay attention to.
Amazingly, over the last 12 months, retail traders' share of daily average revenue trades (DARTs), has doubled from 10% to 25%. Although institutions still rule with 75% share, the retail investor is gaining prominence.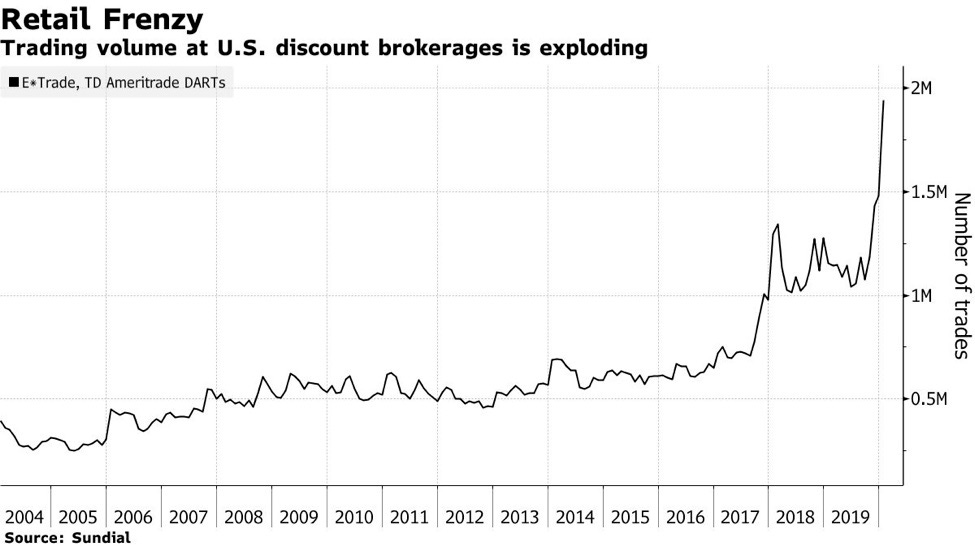 "Robinhood has changed trading forever"
– Jim Cramer
The commission-free trading app has sparked a retail trading renaissance. It has 13MM users, valued at +$13B and contemplating an IPO.
It's free, it's fun & it's highly addictive.
CNBC now frequently quotes the top traded stocks on the app. Because, collectively, the buying power of its users, equivalent to a top 20 global hedge fund ($15-30B AUM), can move stocks.
Take the recent move on Hertz. The stock jumped from $0.56 to $5.53 during its Chapter 11 bankruptcy. Suspected to be driven by Robinhood investors. Accounts holding Hertz shot up 400% on the app in a matter of weeks.
It's not just Robinhood making waves, but the entire retail trading community – TD Ameritrade, Charles Schwab, Interactive Brokers, ETrade – you need to pay attention to.
Get on Twitter and you will see what I mean.
FinTwit: I'm The Captain Now.
I once dated a guy in New York who worked for the 9th largest hedge fund in the world. He told me they used Twitter for trading.
"We once made millions shorting an oil stock from intel on Twitter. We found out about a refinery that was on fire from some local guy tweeting. We quickly geofenced and figured out what company it was."
If it's good enough for them, it's good enough for me.
I find Twitter awesome for quick, unshackled insights.
You get instant analysis. Versus waiting days for analysts to read the press release, write a note, have it watered down by compliance and send. It's like waiting for paint to dry. No wonder the open rate on equity research is <10%.
How is Grit Playing It
Last week I highlighted an obscure stock I own. It traded millions of shares and was up +15-30% throughout the week.
Warning! I won't deliver gems like this every week. I am not Warren Buffet over here.
Today, it's back to basics. But no one should thumb their nose at this pick. Like a broker friend recently told me:
"Never F#$% with VISA." To which I responded "NEVER EVER."
VISA is awesome. It's as consistent as the FED. Always printing money.
It checks all the boxes:
Simple.
Boring.
Multi-bagger EPS growth.
Spectacular stock performer: 28% over the past 10 years.
And unbeknownst to most, Visa is about to become the coolest kid in FinTech with their $5.3B acquisition of Plaid.
Dubbed 'FinTech's Happy Plumbers,' Plaid connects your old school Bank of America, JP Morgan or RBC bank account to financial apps.
They connect 200MM accounts at 11K banks to +2k FinTech apps.
"25% of Americans have connected their accounts to a FinTech app through Plaid"
They power:
Robinhood: The world's leading commission-free trading app
Coinbase: The world's largest crypto exchange
Acorn: One of the fastest growing personal finance apps in the U.S
Venmo: Paypal owned, 40MM users, more than most banks
And many more!
It seems, "All FinTech roads lead to VISA"
Plaid is such a powerful asset that the U.S government is trying to block the acquisition, saying it violates antitrust laws.
"By acquiring Plaid, Visa would eliminate a nascent competitive threat that would likely result in substantial savings and more innovative online debt services for merchants and consumers."
I will continue to love VISA even if the Plaid deal doesn't go through. But if it does, I will be buying MORE.
Oh, and they launched a bitcoin credit card this week!
Don't forget to follow me on Twitter. Where I give daily insights on stocks.
Until next time. Always Yours. Incessantly Chasing ROI,
-Genevieve Roch-Decter, CFA
P.S The biggest money manager in the world warned this week "the growing popularity of bitcoin and digital currencies is having a "real impact"on the U.S. dollar". If that doesn't convince you. I seriously give up.
What else we Grittin' On:
Options Craze. The retail option trading frenzy is at an all-time high. Up 50% YoY in November. Just in time for Santa Claus Rally!
Leverage Bomb. These Gas-Station Entrepreneurs Favored Food Over Fuel and Got Rich with 10x debt-to-equity. This is crazy leverage! But easily fixable in today's frothy market with a sexy SPAC or IPO.
Richie Rich. The 18 wealthiest Americans now own 1.25% of all U.S. wealth. A share 10x larger than 1982. In contrast, 1/8 Americans reported last week they "often didn't have enough food to eat"